The End of Day report is available from the Reports menu, and is designed to give a more concise overview of the day's business than some of our other reports.
We recommend first reviewing our article Configuring the End of Day Report.
This report can be thought of as summarising the value of the "work done" on a single calendar day. The expectation is that this report will be run every day, at the point at which the shift manager seeks to bring together financial data from various revenue centres. This might be at the end of the working day (even if that spills over to 1 am the "next" day) or at the start of the next day's shift.
To that end, this screen allows you to select the report date, and the cut off date/time, which serves as the end of one reporting date, and the start of the next.

The report has a Draft Mode, which enables you to check the report for accuracy on screen before running in Final mode, which generates a downloadable PDF, which can be accessed at any future point.
Once a report has been run in Final mode for a given date, you will see a strikethrough on the Report date calendar to indicate that the report has been run for that date (illustrated below in red). Dates in the future have a cross over them as the report cannot be run for future dates (highlighted orange).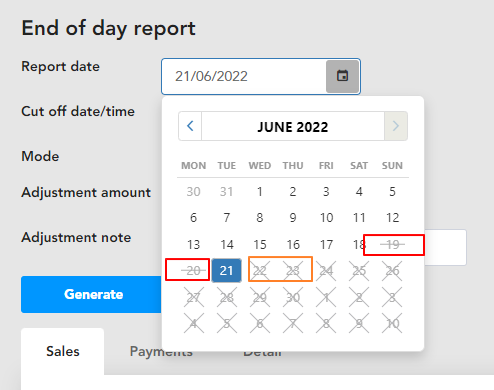 There are 3 tabs in total, reporting Sales, Payments and a final Detailed breakdown.
1. Daily Sales Summary
What data is being reported?
Booking values. If a 2 night booking booking was made for £100 on Friday night, and £130 on Saturday, on this report that booking will show £100 of it's value for Friday's report, and £130 on Saturday's report.
The value of each room for "tonight" is added together to give a value for "Rooms" under the Accommodation heading .
Extras. The value of any Caterbook extras "booked for" the report date will be reported under Accommodation.
EPOS Room postings. The value of any room transfers made on the reporting date will appear under Accommodation.
Function room and extra values is reported.
Deposits taken, redeemed and refunded on the report date.
VAT Summary of the day's sales broken down by VAT rate.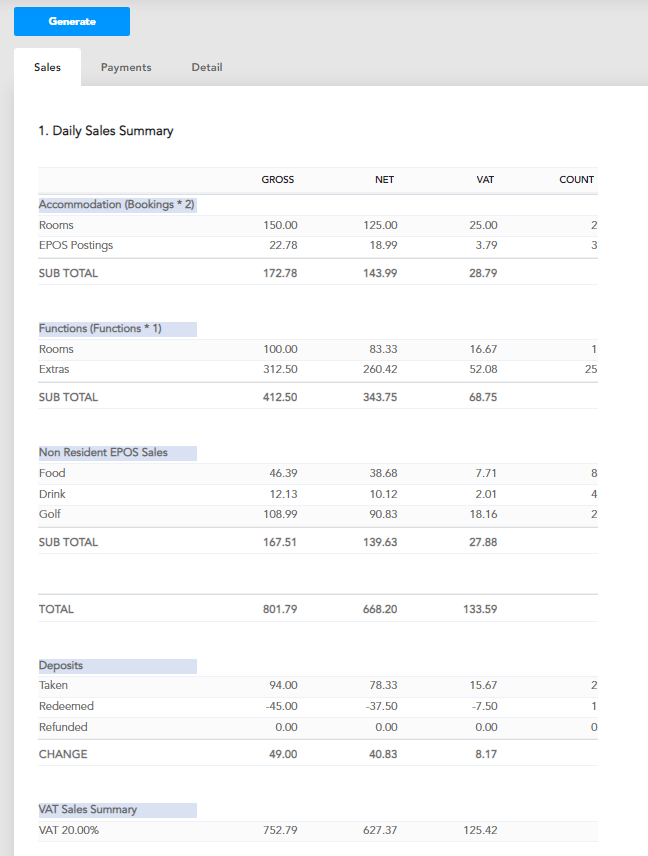 2. Daily Payment Summary
Provides a breakdown of monies received: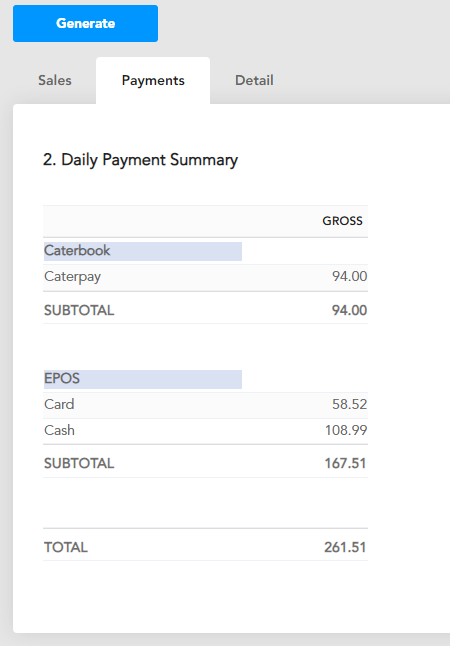 3. Daily Sales Analysis
Summarises accommodation , functions and extras, as well a breakdown of EPOS sales by Category or Department.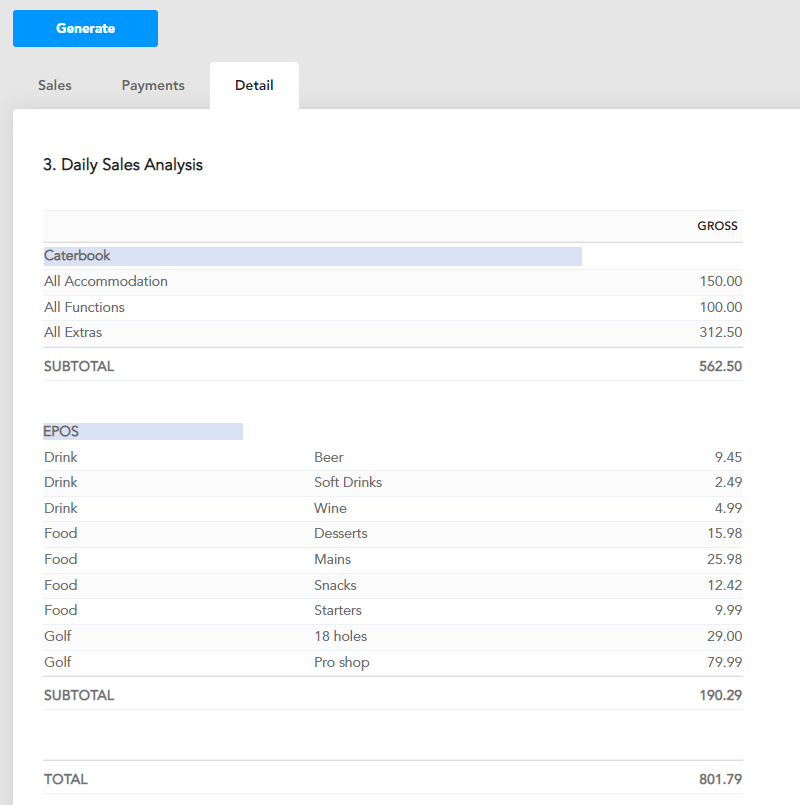 A reminder that whilst the report is live and working, any casual, non-resident EPOS postings will NOT be processed by default. At this point in time only users of CES Software, and ICR Touch (via a third party script) and PowerEPOS 10 will be able to access the non-resident postings feature but this will be rolled out to other POS vendors shortly.
Please view our article about Configuring the End of Day report. You will need to have your Cloudhook upgraded to Version 4 in order to post the PLU category information along with the payment types.