Occasionally, items might be transferred to the wrong booking, for instance, where staff haven't checked guests in/out correctly. You are able to use the 'Move' feature in Caterbook to transfer individual items, multiple selected items or all items at once.

From the Rooms tab of the booking record, click the Move icon to the right of the epos item. You can then select which items you wish to move. 'This one item' selects just the item clicked on the previous screen. 'All in this posting' selects all of the epos postings to the booking record. 'Multiple items' will present the full list of epos items, so that you can manually select, by ticking the check box to the left of each row.

You are then able to select the booking you wish to move the item(s) to by selecting from the list of bookings for that day or by clicking the calendar icon to select a bookings from an alternative date.

Where extras are already linked to an existing invoice, they will need to be unlinked before they can be moved. Where an invoice is already in place, you'll see an alert regarding this and items can be unlinked by clicking the yellow icon to the right of each one.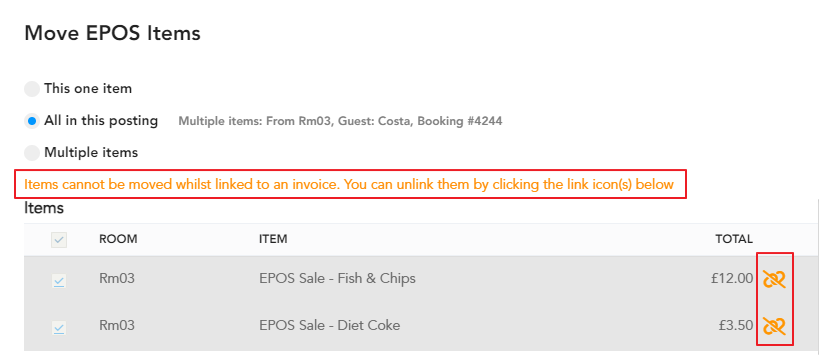 N.B. Extras linked to an invoice which has already been closed cannot be unlinked or moved to another booking. In these rare instances, the sales would need to be voided off the epos tills and reposted to the correct room.

The items on the closed invoice can be deleted from the booking by creating a credit note, which then allows you to use the bin icon to the right of the extras on the Rooms tab.