Where email is often ignored by people due to the volume received, an SMS message is an excellent way to get your guest's attention.
That said, it's worth remembering exactly what SMS stands for first; SHORT Message Service.
An SMS can be a maximum of 160 characters (including spaces) and it costs 1 message credit to send. You can send longer messages but this would require several SMS to be linked together. If you were to send a message with more than 160 characters, it would "cost" multiple credits depending on the total number of characters being sent.
So if you want to keep costs down, use SMS only where it's more effective than email and be concise.
By keeping straight to the point and avoiding the type of greeting you'd normally use in emails (do you really need "Hi Alexander, " at the start of your message?), it's easy to stick within the 160 characters.
You can usually count the number of characters by using a word processor such as Microsoft Word. In Word go to the Review menu and click Word Count after typing your message.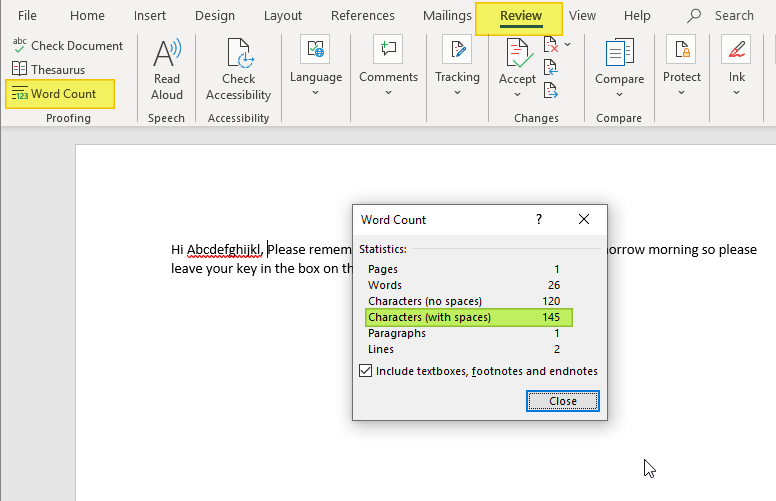 Tips for keeping within your 160 character limit:
Leave 10 - 12 characters for the name - if you intend to use the guest's first name at all!
There is no point formatting an SMS into paragraphs.
Don't use any links or any html formatting as these significantly increase your character count.
Remember, you can send longer messages, they just cost more credits.
Sample one credit messages:
St Hubbins Hotel booking reference #4321, arrival date 14/04/2019. Please note the main door PIN code is 1432. (Could be scheduled to go out at 10am on the day of arrival).
Welcome to St Hubbins Hotel. Please note breakfast is served between 07:00 and 09:30 and check out is by 10am. The restuarant has tables free this evening. (Could be scheduled for 30 minutes after check-in.)
St Hubbins Hotel. Please note reception will be unstaffed in the morning, please remember to leave your key in the box on the front desk. (Could be scheduled for 7pm in the evening before departure.)
Use SMS only for the really important things you need to communicate or else it may become an unwelcome intrusion during the guest's stay.