From it's launch in 2019, Caterbook 5 supported the ability to collect guest information ahead of check in, and payment of any balance online prior to departure, and many of our properties have been using these features since before the lockdown.
Guest registration.
We've now updated this form to make it easier for the lead guest to complete. It's more mobile friendly and your guest can accept your property Terms & Conditions. We also added "Naked Link" email template placeholders for pre-arrival and payment links as some OTA's do not relay emailed links with 'clickable text' correctly across all devices.
Any additional guest's contact details can be collected as per the recently revised (as of Spring 2021) NHS Test & Trace requirement.
You can include the Guest registration link in your existing "New booking" email along with some explanatory text.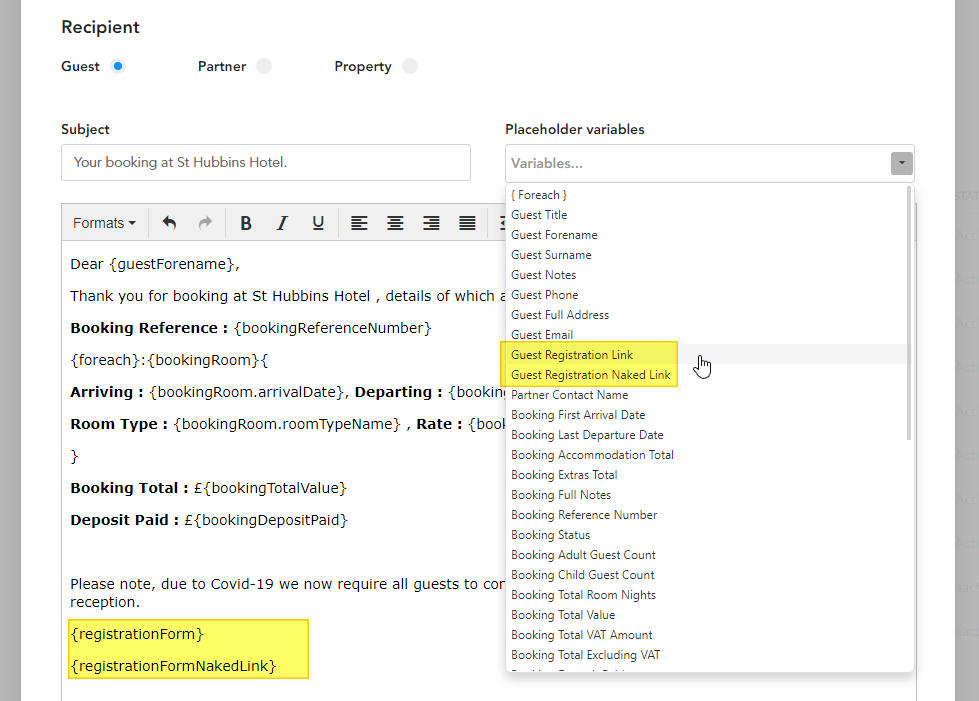 Also, it would be possible to create a dedicated pre-arrival email template, scheduled to go out on the morning of arrival, asking that if the lead guest hasn't completed the form, they remember to do it ahead of checking in.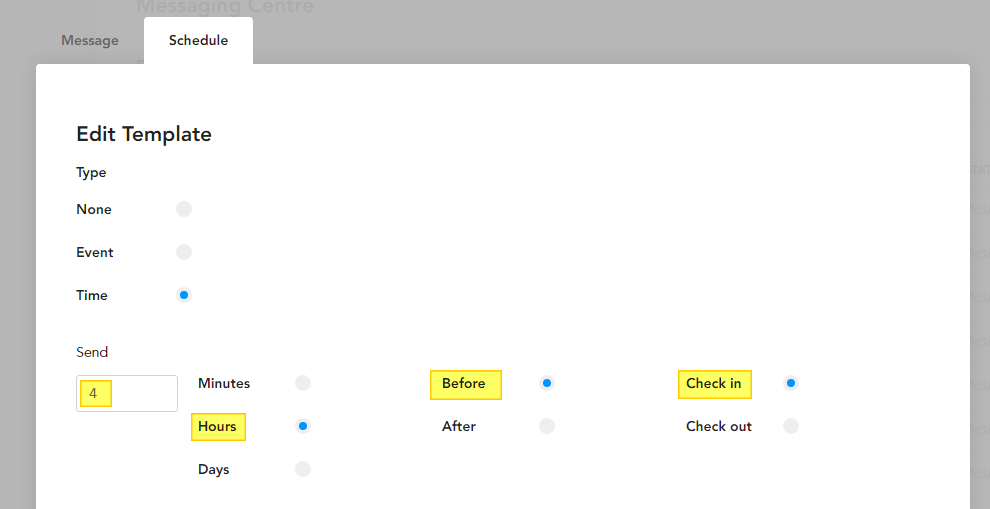 In the example here, the property "Check in from" time is set as 2pm, so our template would be scheduled to be sent out at 10am.
Accepting your terms and conditions online reduces the need for guests physically signing acceptance by way of a traditional paper Guest registration form (GRF), but we acknowledge there will be instances where a property may need to collect more information than the online form allows.
Any bookings where the lead guest hasn't accepted your terms and conditions online (update these to reflect any Covid-19 related policies at Settings / Property / Terms and Conditions) are now displayed on the dashboard with a red ! at the end of the row in the arrivals panel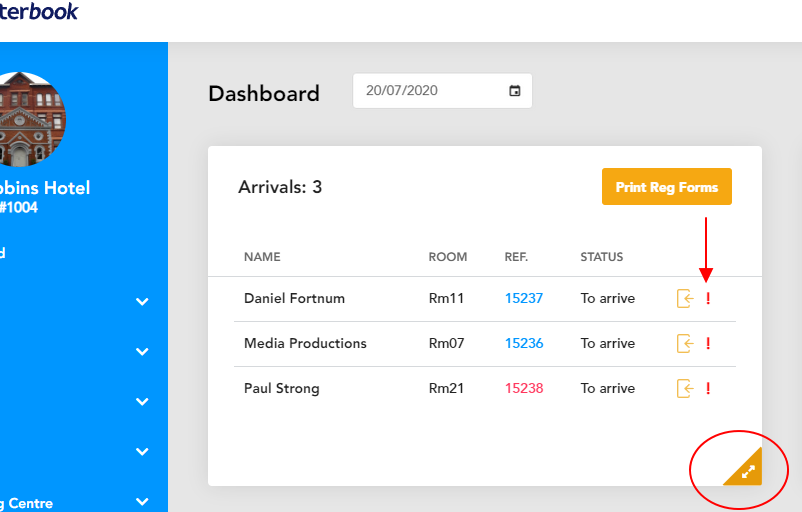 and also in the booking record after the booking reference number is a triangle with exclamation mark.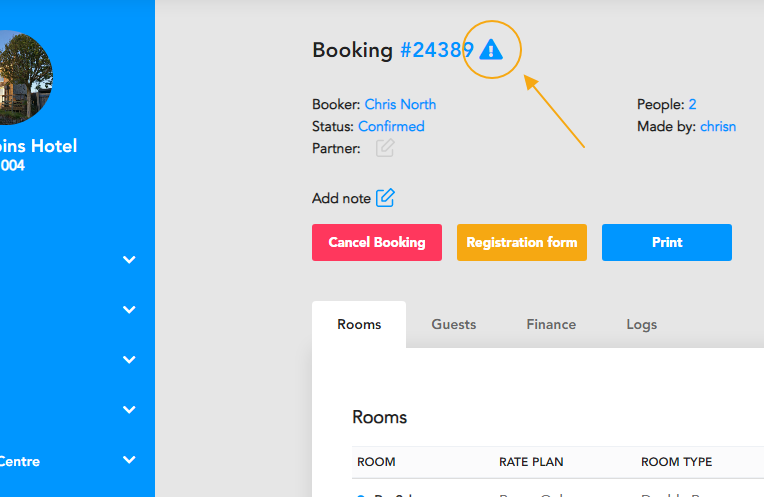 Note that for any existing bookings who haven't received the link in an automated email, you can change the date on the dashboard to tomorrow, from there see who hasn't accepted the Terms & Conditions and manually send an email to them from the Guest tab of the booking record.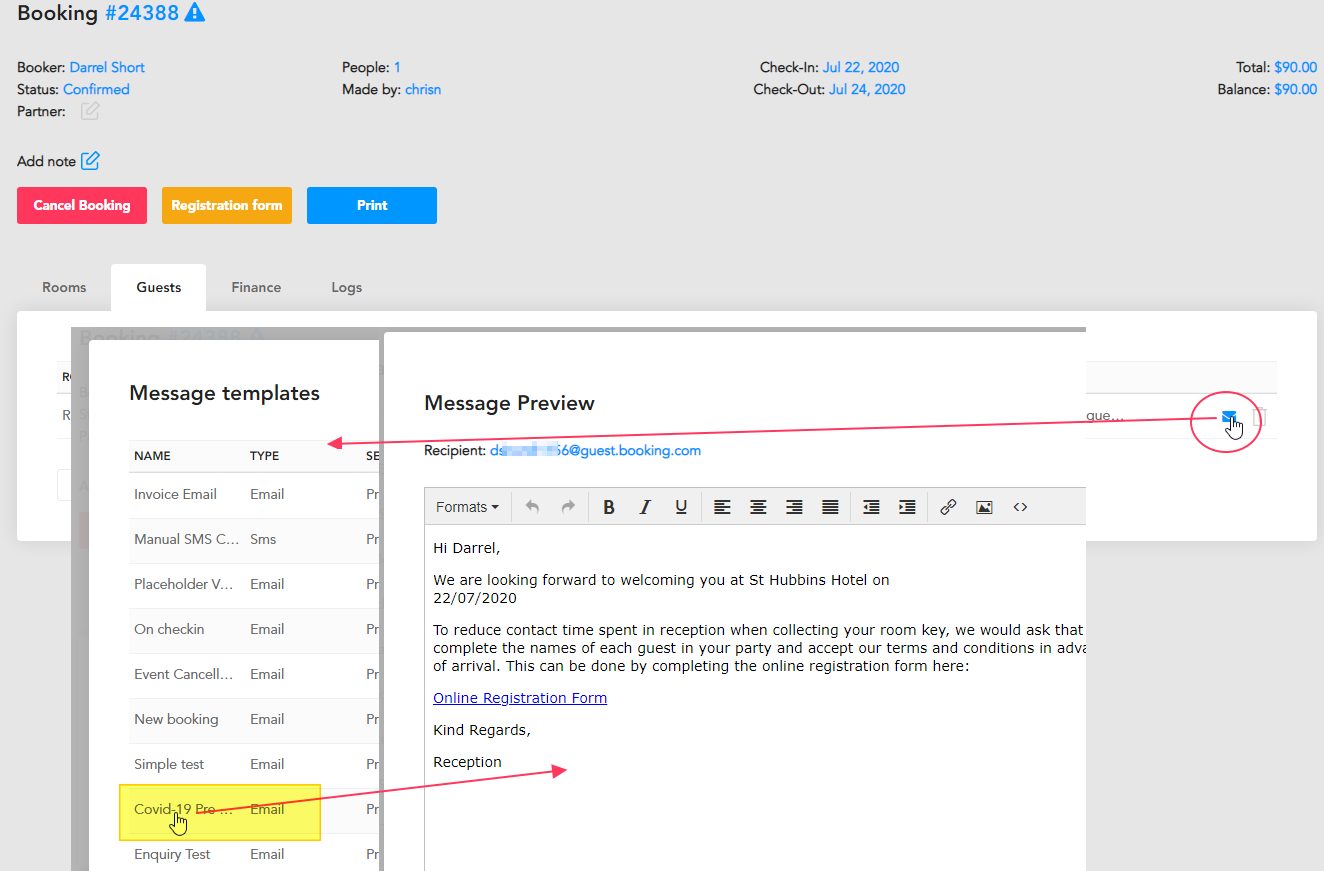 It's important to understand, the online Guest registration form and any elements on it cannot be made compulsory. Your guest has already booked - in this process there is no further step needed compelling them to complete this form. In theory it's in their interests as much as yours to complete this process as fully as possible.
SMS Messaging.
If you're using Caterbook's SMS messaging option, and the lead guest arrives in reception having not accepted your terms and conditions,you can pop up the extended Arrivals panel using the yellow corner at bottom right.
If their mobile number is in the booking record, with a single click on the mobile icon, you can send a pre-formattted SMSmessage containing the online registration link, for them to complete in reception.

If there is no mobile icon showing, click the booking reference number to open the booking record.
Click the yellow Registration form button from within the booking record.
Ask the Lead guest for their number and enter this on the form.
Press the blue Save button.
Click the green Send SMS button.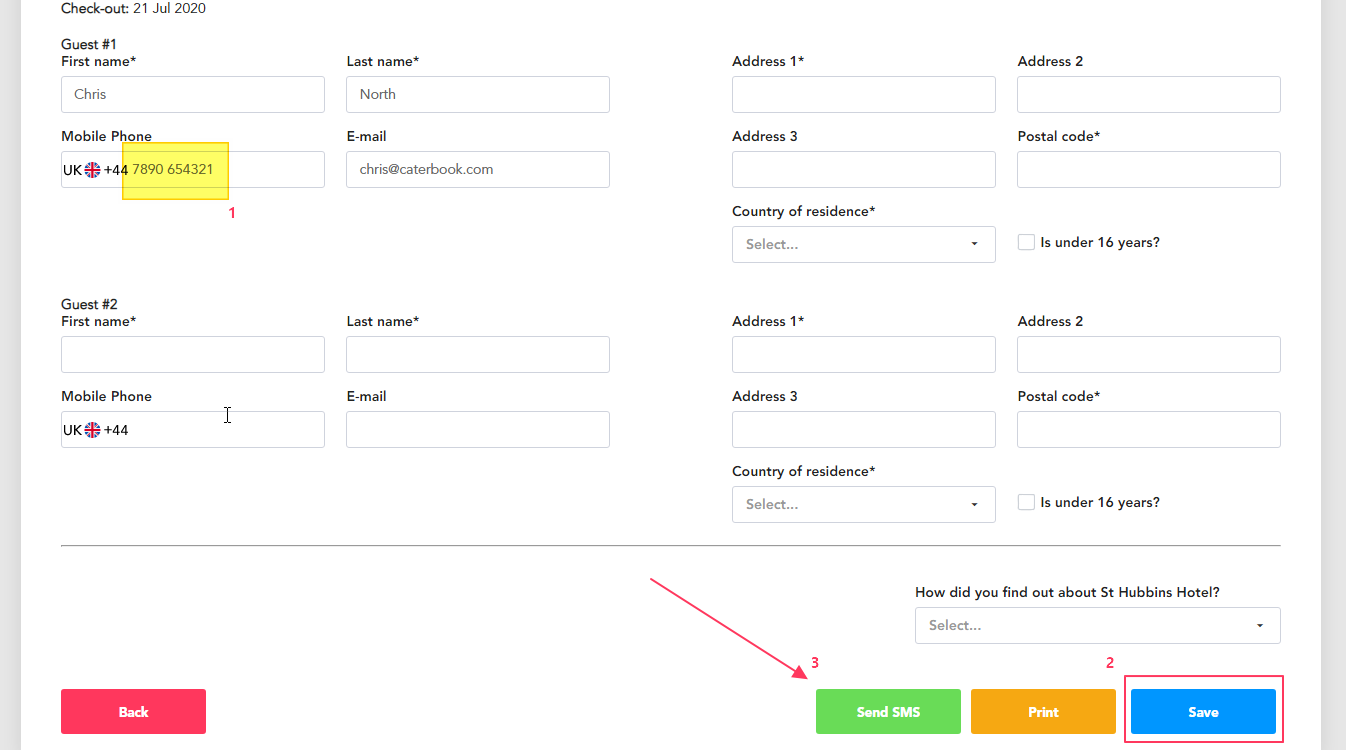 This sends a preformatted SMS message (there's no need to create a template for this) with "Please click your check in link: " and the link.
The advantage of using SMS is that many people don't collect email on their phones and usually, where signal is good, this is received more quickly than email and allows the lead guest to complete all the information right there, in reception.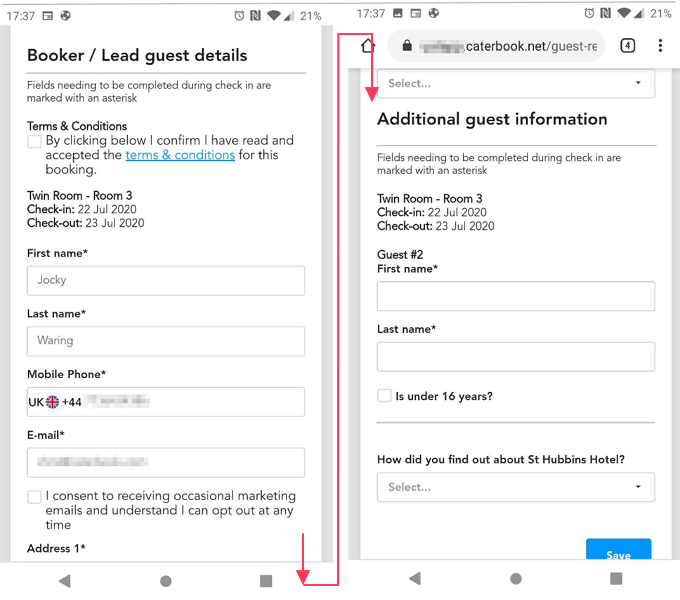 Note: For security, the SMS link to the online Guest registration form expires 1 hour after it has been sent.
Pre-departure payment link.
It's possible to use the payment link placeholder in an email to offer the guest the opportunity to settle their outstanding bill online.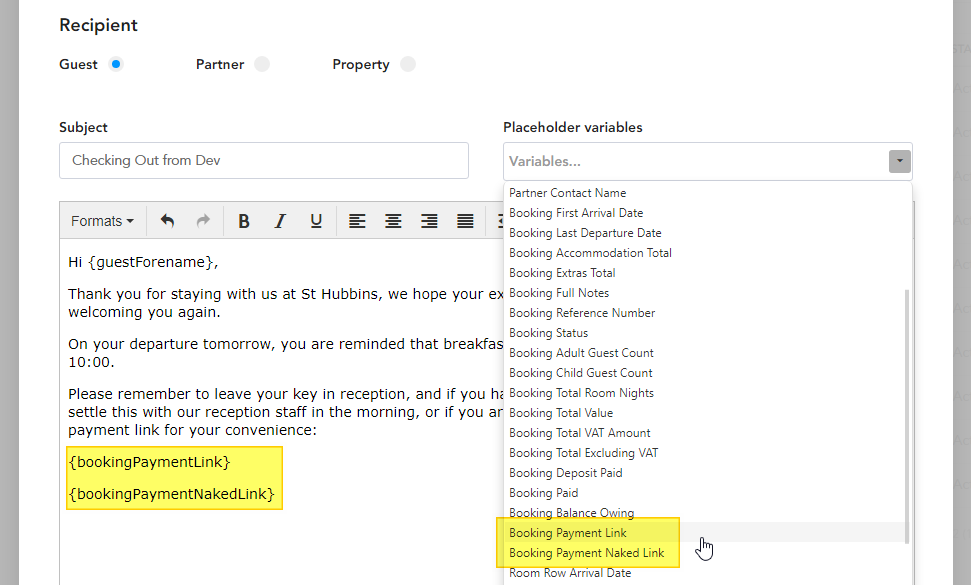 Scheduling this to be sent 14 hours before the property "Check out by" time of 10am would mean this would be emailed to the guest at 8pm on the night before departure.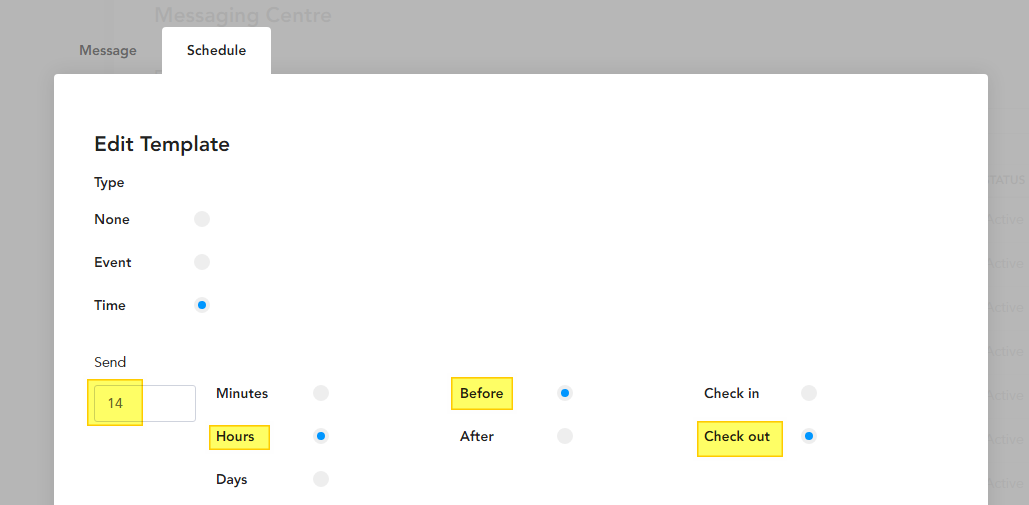 On a mobile phone, the payment screen looks like this: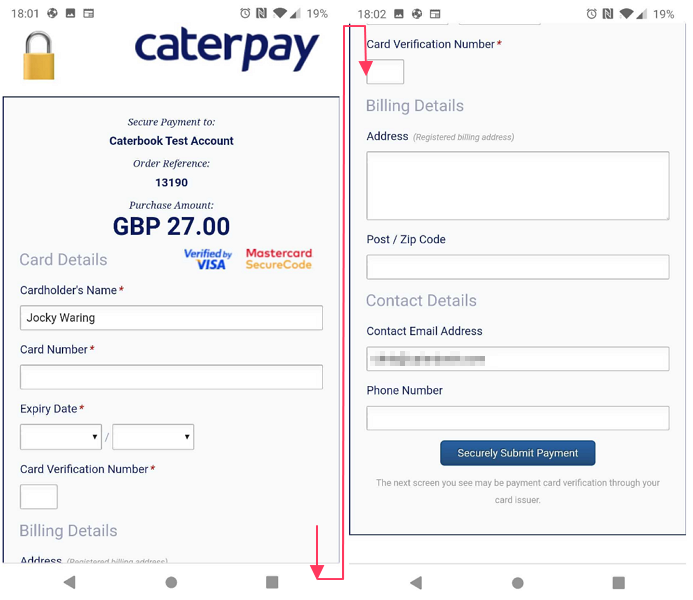 EPOS - Posting food and drink to rooms.
Remember also, that during a guest's stay, you can reduce contact by posting any food & drink items from the bar or restaurant to the room via your EPOS system using Cloudhook (meaning one less payment transaction needs processing.)