These day's it's hard for a software provider like Caterbook to send emails on your behalf. Because they come from "our" server with "your" address on them, there's a good chance that your guest's ISP could tag that booking confirmation email as SPAM, and it might not arrive.
If we were to send the email from "no-reply@caterbook.com" the email will probably get through, but that doesn't look great for your guest, so what's the solution?
You can configure your own SMTP (outbound email) credentials in Caterbook, and just like your Outlook or Thunderbird email client, Caterbook then sends the emails through your own email account. So, the email actuallly does come from you and gets through to your guest without being spam tagged. (Note that this only works for outbound email, our system has no way of reading your inbound emails.)
From the menu go to Settings, Property, Email / SMS Settings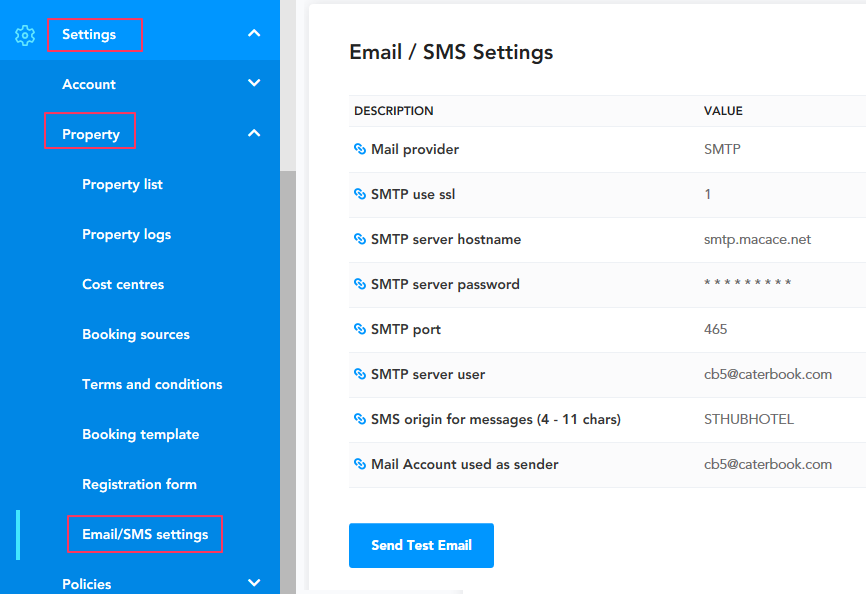 Change the Mail provider to SMTP by clicking the blue link icon.
If you need to use SSL with your connection (and probably you should) set SMTP use ssl as 1.
You'll then enter your mail server name in SMTP server hostname, and the password below it.
If you are using ssl you might need to check with your provider what to set for SMTP port, but it's usually 587, or could possibly be 465. Without ssl, this is likely to be 25 but increasingly mail sent insecurely on port 25 these days is often viewed by ISP's as spam.
The SMTP server user is your email username and is often your email address but can sometimes just be the first bit before the "@" symbol, eg "reception".
Finally the Mail Account used as sender is the email address you want the recipient to see as the sender.
Once you have this set up, you can use the Send Test Email button to see if you have configured this correctly.